Explosion Proof Alarm Light Types
As an industrial-led lighting manufacturer, SUREALL explosion-proof alarm light is ATEX and Intertek certified for harsh, hazardous location.
Led 5w with 136 times/min flashing frequency

110-120dB sound intensity

Die-cast Aluminum Alloy Housing, excellent heat sink structure

Class 1 div 1

Zone 1 and Zone 2

5 years warranty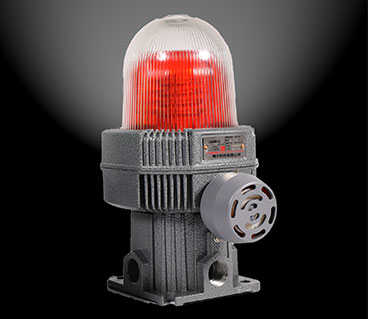 Class I Division 1
Zone 1&2, Zone 21&22
LED 5W
Type 4X, IP66
View More


Main Usage Of Emergency Explosion Proof Alarm Light
SUREALL explosion-proof alarm light is class 1 div 1 strobe light classified and can be used in both hazardous locations and wet, corrosive locations, here are some usages for your consideration before buying from three aspects, installation area, application and a selection guide.

The explosion-proof alarm light is normally installed at the top of machines, the dangerous location of processing areas, at the high height platform of a workshop, waist or top of high buildings, exit or access of hazardous fire, material, solvents to warn people any emergency condition.
Explosion-proof alarm lights are applied for hazardous locations where combustible gas or dust get together below:
Machines for petroleum and petrochemical transportation, offshore drilling rigs and platforms, oil and gas material tankers, offshore energy supply vessels

Pump for water treatment plants, chemical reaction chamber, chemical solvent storage areas, chemical material tankers and chemical manufacturing

Machines of mining coal production, processing
Here you may know the available model for atex emergency lighting, every model has different main data for you to choose as below:
Selection guide of explosion-proof long backup emergency light:
Model
Flashing Features
Sound
Explosion Proof Division/Zone
Lamp
Power
Flashing
Frequency
Intensity
Class 1 Div 1
Class 1 Div 2
Zone 1
Zone 2
SAV
LED
5w
136 times/min
110-120dB
×
×
×
×