The 14th China-LAC business summit was held in Chongqing China on November 16-17, 2021. LAC means China-Latin America and Caribbean Region, Themed "Promoting Belt & Road global cooperation, seizing new opportunities for China-LAC economic and trade development," the two-day summit will explore ways to promote China-LAC trade and investment, boost the transformation and upgrade of pragmatic partnership, and fulfill higher-level joint development and mutually beneficial cooperation.
Also this year, the event was a success, with over 80000 Visitors from 65 different countries. Some 1,700 guests from home and abroad took part in this Business Summit. Participants are 600 foreign representatives from more than 40 countries and regions and 1,100 State government leaders, financial experts, local officials, representatives of international organizations, and business associations in China. More than 550 exhibitors from 44 countries and territories including 19 Latin American countries are showcasing their products at the 20,000 sq m China-LAC Trade Exhibition, which encompasses China-LAC Cooperation & Key Enterprise Hall, Latin American National Pavilion & Feature Hall, China-LAC Economic & Trade Hall, and China-LAC Commodity Area.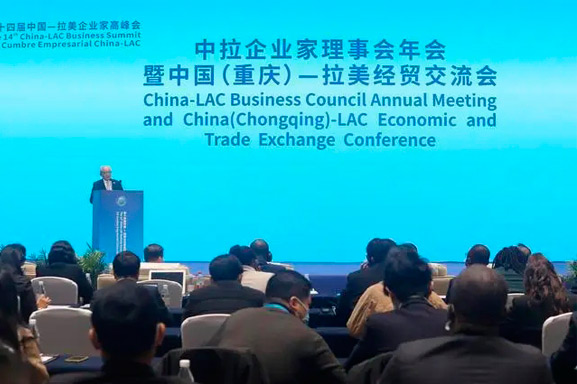 The China-LAC Business Summit is held annually in China and LAC countries on a rotating basis. Until now, 11 summits have been successfully convened in China, Chile, Colombia, Peru, Costa Rica, Mexico and Uruguay. The China-LAC Business Summit focuses on key issues facing China-LAC business communities in light of broader international economic and trade development trends. Political leaders, experts, representatives of international organizations and financial institutions, as well as entrepreneurs from China and LAC countries, are invited to discuss on China-LAC trade and investment policies, market opportunities, and mutually beneficial cooperation. In addition to the main forum, various of side events such as China-LAC Trade Exhibitions, Roundtable Meeting of China-LAC Trade Promotion Organizations, seminars and business matchmakings will also be held in the same period of time.
SUREALL took the opportunity to present the explosion-proof LED Lighting fixtures and the development trend for led lighting in hazardous locations, as well, we shared our accumulated experience for company management especially products research and development, human resource management. SUREALL show open attitude to communicate with other competitors to conclude any good ideas. Dedicate to set up smooth communications channel with other competitors and end-users, SUREALL invest much of our energy to attend the business summit to know the industry trend, we cherish every time to listen to our customers to inject innovation ideas to our technical and commercial teams to boost brighter future.

We are active to look for new cooperation opportunities among LAC countries.
By Senior Marketing Director of Foreign Sales