SUREALL Exhibited at Exponor 2019
Exponor shows that it takes place in Antofagasta - Chile every two years, chain the latest advances aimed at the mining sector. It is a strategic source of information on future investments and an opportunity to share on ground with companies and exhibitors. Exponor 2019 was held by round 1,000 exhibiting companies between national and foreign from May 27th to 30th, 2019.

The Antofagasta Region has established itself as the mining capital of Chile and the world, as it contributes 54% of the production of metallic and non-metallic minerals nationwide and 16% of world production. It also leads the portfolio of mining projects in the 2018-2025 period, covering 42% of all initiatives amounting to US$ 28,025 million, according to the Chilean Copper Commission, Cochilco.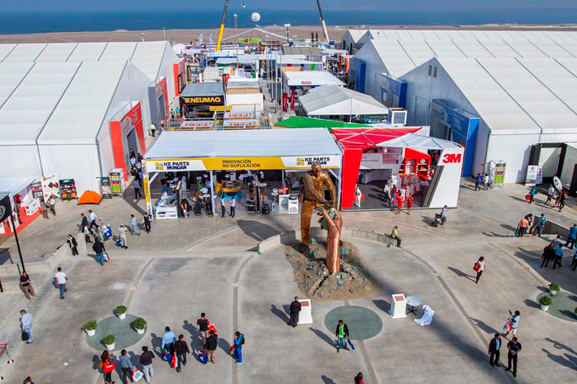 Meanwhile, the Antofagasta Region has positioned itself as a benchmark in the Energy Industry by contributing 6,187 MW to the National Electric System (SEN), highlighting the generation of renewable energy that reaches 19% through photovoltaic, wind, geothermal and co-generation. The Antofagasta Region project portfolio reaches US $ 24,052 million, leading the development of renewable energies (91% of the total portfolio) and being a pioneer in developing technologies such as geothermal energy and solar power concentration (CSP).
SUREALL Show
SUREALL showed our classical hazardous high bay light SHB series for class 1 div 1 and hot seller class 1 div 2 flood light SHF-IIA series, our sales team explained the products features and functions detailed to 184 guests from Chile, Peru, Argentina, Venezuela, Colombia, Brazil, Ecuador, part of clients highly recognized the product quality and unique design, part of clients showed potential interest to be our agent in local country, part of client evaluated the quality and cost with our salesman face to face, they are pleased to see our quality can compete with Crouse Hinds in South American to executive some replacement for Crouse Hinds VMV series high bay light.
In addition to the activities held at the stand, SUREALL representatives participated in 11 business roundtables and technical lectures. The second level of the stand held a meeting room where the Purchasing and Supplies Area met with nearly 100 users who are interested in connecting with SUREALL. We are honored to be selected to group of 33 suppliers involved in the mining industry to visit Salar de Atacama, SQM to tour the facilities and learn about the lithium production chain.

We strive to figure out hazardous location lighting in open-pit mining projects located in South American market
By Senior Marketing Director of South America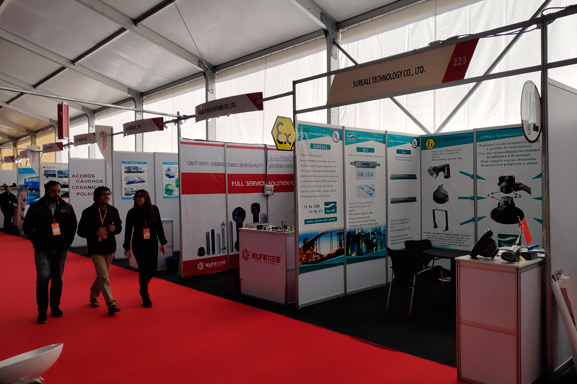 Exponor brings together the latest breakthroughs in the mining sector and offers the chance to gain inside knowledge on future investments and expert viewpoints, as well as making contact with companies and exhibitors with one thing in common: mining. Exponor is widely recogniezd as an international mining show, with the advantage of being held in Antofagasta, a region at the heart of Chile's mining industry which accounts for 54% of the country's total metallic and non-metallic mineral production, including 16% of copper production. The region's productivity will be supported up to 2025 by a portfolio of investment projects with US$49 million, according to the Chilean Copper Commission, Cochilco. A series of complementary activities has been designed for Exponor, including everything from strategic conferences, technological launches and social events to social responsibility activities involving the local community, all oriented towards formation developing and strengthening business networks at the national and international level.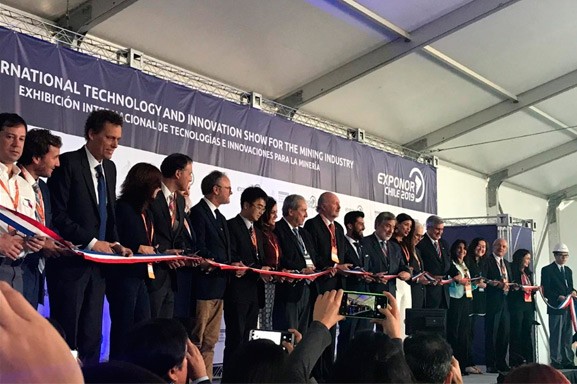 The event was attended by the main stakeholders of this industry segment: equipment manufacturers, distributors focused on maintenance and repair operations, service providers, and a wide range of associates including executives, professionals, technicians and operators from the main mining companies. Mark Razmilic, President of the Antofagasta Industry Association, said: "The event's balance was very auspicious. Over 41 thousand people attended the four days of the event, visiting more than one thousand exhibitors". The president also affirmed that over two thousand meetings between suppliers and purchasing executives from seventeen mining companies took place, generating an estimate of US$850 million dollars in business over the next year. This shows the potential for increasing business with both OEMs and end users alike for the years to come.
Projects
Engineered tailor-made lighting solutions for varied projects under challenging conditions such as extreme temperatures, highly corrosive conditions and hazardous locations worldwide.
View More


Applications
SUREALL offers ultra-reliable lighting and lighting control system for a wide ranges of industries.
View More

