Features
Explosion Proof High Bay Lighting SHB Series
01
Vertical fins heat dissipation structure to reduce the heat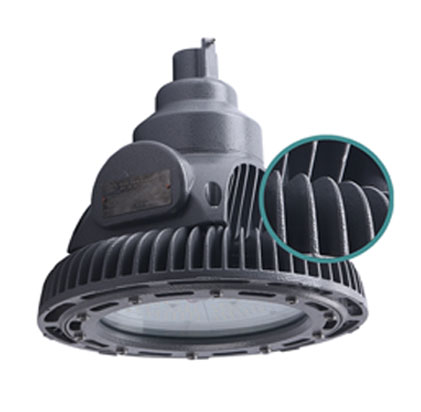 02
Flame proof Ex d electrical enclosure with removable cover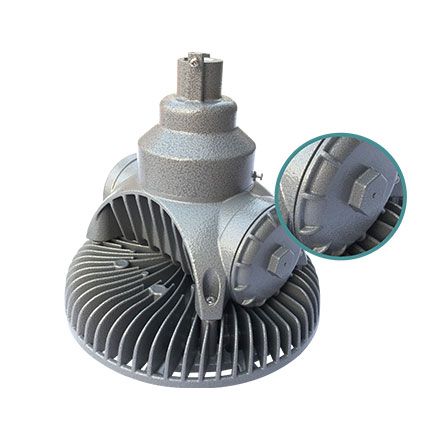 03
Annual flowport design for heat air flow to limit the temperature rise for lamp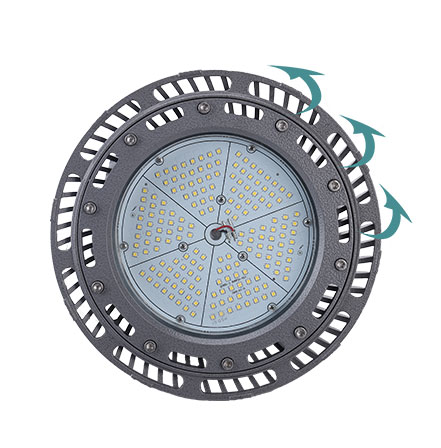 04
Double-lead Connect Contacts ensure connection and disconnection automatically when two parts are screwed tightly or loosely.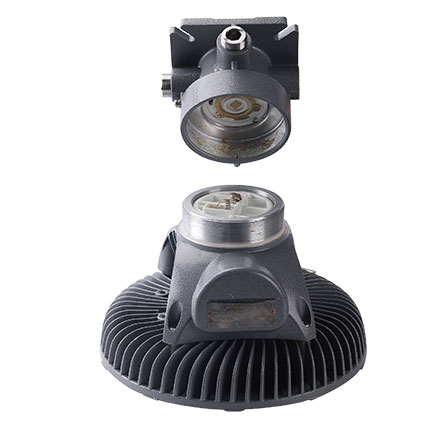 Application
Explosion Proof Led High Bay Lighting SHB Series
01. Pharmaceutical Industry
In the past, pharmaceutical companies transferred the scientific research into active ingredients and medicaments. Nowadays, in order to improve the production efficiency for overall procedures, pharmaceutical companies trend to take measures to optimize traditional procedures to comply with international respective regulations and standards which request a fundamental precondition for utmost electrical system safety and environment safety. SUREALL explosion proof led work lights implement the most stringent safety with approval from ATEX and IECEx for Zone 1 and 2, Intertek UL for Class I, Division 1 and 2, designed for pharmaceutical explosive areas such as clean rooms.
02. Open-cast (Open-pit) Mining Industry
Open-casting mining project normally is located in a vast area on the ground where bulky mining stones, excessive gas and dust and heavy equipment exist. Proper electrical light fittings will be requested to achieve continuous production operation and mitigate explosive risks. SUREALL explosion proof led high bay lighting are designed with excellent full-sealing performance, mechanical impact-resistance, shock-resistance, stable protection for explosion and flexible mounting options for simple support areas.
03. Oil and Gas Industry
The process of production, storage and transportation for crude oil and other oil and gas products may inevitably present explosive mixture and hazardous locations such as combustible gas, in case of ignition source or fire, explosion will happen to bring disaster threat for human lives and physical environment. Thus, the electrical light fittings should be designed with higher standards for the electrical safety to ensure the safety working condition to avoid the explosion compared with general environment. SUREALL c1d1 lighting are protected by flame proof "Ex d" housing with corrosion and impact resistance features under the most strict safety standard EN 60079-1/IEC 60079-1 in hazardous locations.
04. Power Plant
Power plant have many kinds of safety hidden danger, traditional power plant are installed with too many quantity light fittings without comprehensive layout. The high frequency for maintenance bring higher labor cost and more shut-down time. SUREALL led high bay luminaires features excellent heat-sink dissipation performance and maintenance-free within 8-10 years, equipped with fixed, clean-free, long-life led lamps. After installation for class 1 div 1 junction box, The whole lighting system are divided into small unit to reduce the influence for other unit and ensure the continuous working in case of fault.
Selection Table
Explosion Proof High Bay Lighting SHB Series
| | | | | |
| --- | --- | --- | --- | --- |
| Model | Lumens | Wattage | Lumens per Watt | Equivalent HID Luminaire |
| SHB-30W | 3600 | 30W | 120 | 70-100W |
| SHB-50W | 6000 | 50W | 120 | 100-150W |
| SHB-80W | 9600 | 80W | 120 | 175-250W |
| SHB-100W | 12000 | 100W | 120 | 320-400W |
| SHB-120W | 14400 | 120W | 120 | 400W |
| SHB-150W | 18000 | 150W | 120 | 400-600W |
| SHB-200W | 24000 | 200W | 120 | 600-750W |
| SHB-240W | 28800 | 240W | 120 | 750-1000W |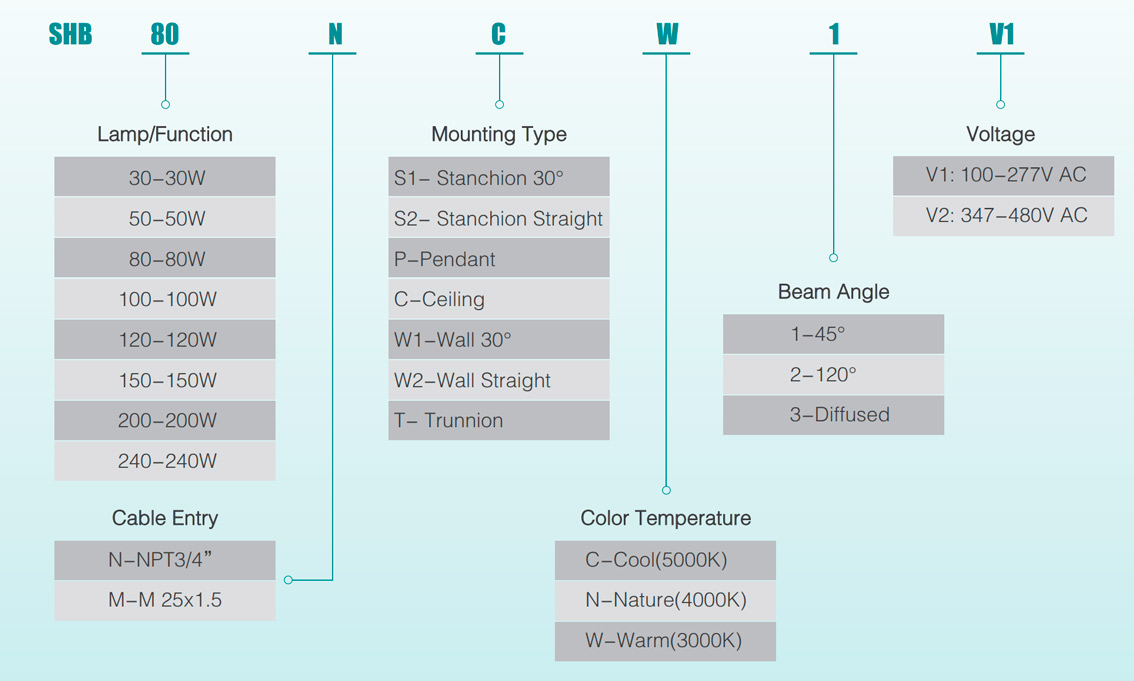 Data Sheet
Explosion Proof High Bay Lighting SHB Series
Compliance

IEC Standard
IEC60079-0, IEC60079-1, IEC60079-31, IEC60598-2-1
Ex d IIC T5 Gb
Ex tb IIIC T100℃ Db IP66
Zone 1, Zone 2
Zone 21, Zone 22
EU Standard
EN60079-0, EN60079-1, EN60079-31, EN60598-2-1
II 2 G Ex d IIC T5 Gb
II 2 D Ex tb IIIC T100℃ Db IP66
Zone 1, Zone 2
Zone 21, Zone 22
NEC & CEC Standard
Class I, Div 1, Group A, B, C, D
Class II, Div.1, Group E, F, G
Class III
UL Standard
UL844, UL1598, UL1598A
CSA Standard
CSA C22.2 No.137
Rated Voltage
100-277V AC 50/60Hz
347-480V AC 50/60Hz
Wattage(W)
30W
50W
80W
100W
120W
150W
200W
240W
Lumens(LM)
3600
6000
9600
12000
14400
18000
24000
28800
Color Temperature
5000K/4000K/3000K
IP Grade
Wet Locations, Type 4X, IP66
Ambient Temperature
-40℃~ +55℃ /-40°F ~ +131°F
Cable Entry
NPT 3/4" or M25X1.5 (adaptor for M20x1.5, NPT 1" NPT1 1/2")
Terminals
Terminal blocks ≤ 2.5mm², cable diameter 10-14mm
Mounting Type
Stanchion 30°/Stanchion Straight /Pendant /Ceiling /Wall 30° /Wall Straight /Trunnion
Beam Angle
120° / 45° / Diffused
Mounting
Explosion Proof High Bay Lighting SHB Series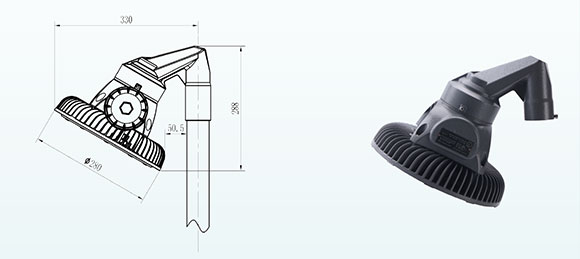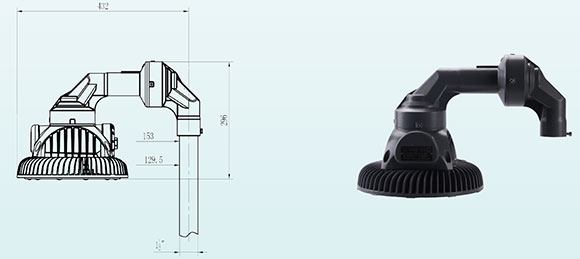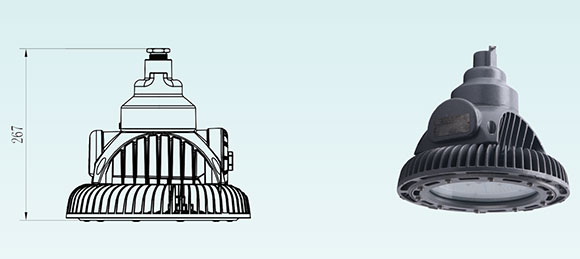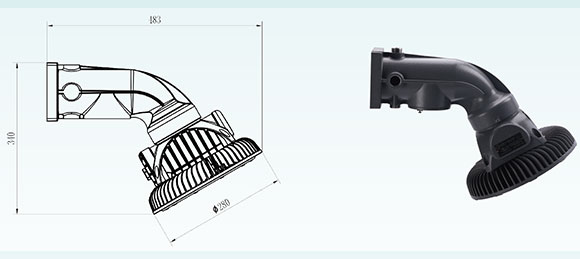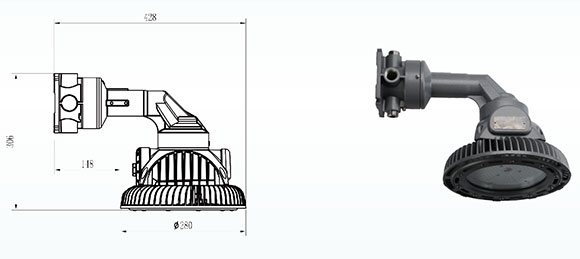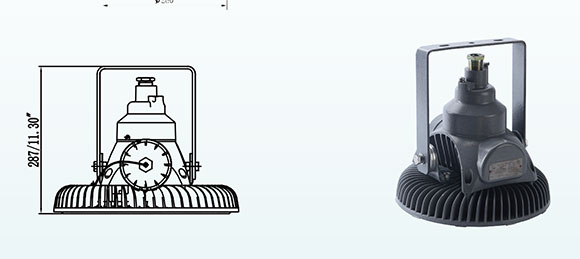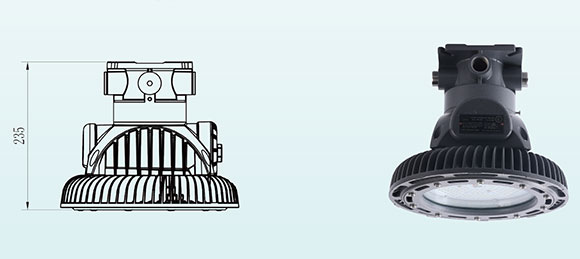 Warranty
Explosion Proof Led High Bay Luminaires SHB Series
SUREALL provide 5 year's limited warranty or any other warranty period specified in the contract for the explosion proof led work lights takes effect from the date of purchase.
The Warranty Terms:
> The manufacturer may repair the defective product or send substitute for replacement, when repairing do not work in special case, the manufacturer may replace the complete set of explosion proof led high bay lighting for free.
> Installation labor, electricity cost and other related cost will not be covered.
> The defect caused by inappropriate use under the installation instructions will not be covered, especially normal abrasion as well as failures which affect the value or use of the product insignificantly.