Sureall To Attend The Second China-Africa Economic And Trade Expo
SUREALL participated in the second biennial China-Africa Economic and Trade Expo (CAETE) held in Changsha, Hunan Province September 26-29th, 2021.
The China-Africa Economic and Trade Expo (CAETE) is an important part of the eight major initiatives for China-Africa cooperation announced by President Xi Jinping at the 2018 Beijing Summit of the Forum on China-Africa Cooperation, and an important platform for China and African countries to conduct economic and trade cooperation and relevant exchanges and dialogues. It is a biennial event co-hosted by the Ministry of Commerce of the People's Republic of China (MOFCOM) and the Hunan Provincial People's Government. The Second China-Africa Economic and Trade Expo is scheduled to be held in Changsha City, Hunan Province from September 26 to 29, 2021, with the theme of "New Start, New Opportunities, New Accomplishment".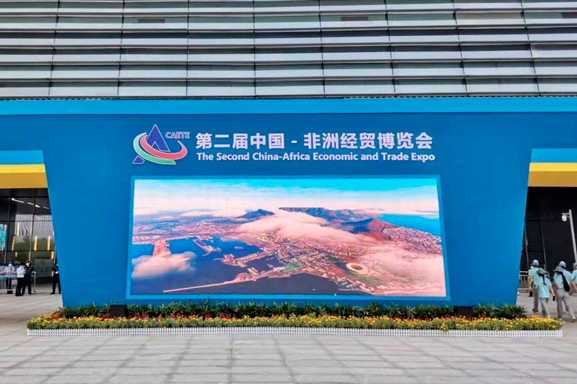 Six African countries—Algeria, Ethiopia, Kenya, Rwanda, South Africa, and Senegal—will be invited as the guests of honor, with Zhejiang and Jiangxi serving as theme provinces. The Expo is designed to be held in the form of meetings, exhibitions, and consultations. It will carefully organize various activities and exhibitions to promote project cooperation and trade transactions, thus providing greater momentum for pushing China-Africa practical economic and trade cooperation to a new high. Venue include: Changsha International Conference Center (Main Venue), Changsha International Convention and Exhibition Center (Main Exhibition Hall) and China-Africa Economic and Trade Cooperation Promotion Innovation Demonstration Park (Parallel Exhibition Hall0.
On September 18th, with the presence of senior provincial government officials, SUREALL's senor sales manager Liu Wei and the Organizer of CAETE, SUREALL signed the joint decleration for the chief strategic partnership with CAETE, a sign that SUREALL attaches increasingly greater strategic importance to Africa in its business map.
Co-organized by the Ministry of Commerce and Hunan's provincial government, the event will take the shape of a forum on China-Africa cooperation. This year, the theme of the forum is "new beginning, new opportunity, new achievement", focusing on the topics of food and agricultural products, healthcare, infrastructure, and cooperation during the post-pandemic era.

We cherish any chance for any possibility for strategic business in African regions
By Sales Manager of Foreign Sales
Popular Explosion Proof Lighting & Industrial Lighting
Projects
Engineered tailor-made lighting solutions for varied projects under challenging conditions such as extreme temperatures, highly corrosive conditions and hazardous locations worldwide.
View More


Applications
SUREALL offers ultra-reliable lighting and lighting control system for a wide ranges of industries.
View More

